How does the military prepare you for law school?
02/17/2020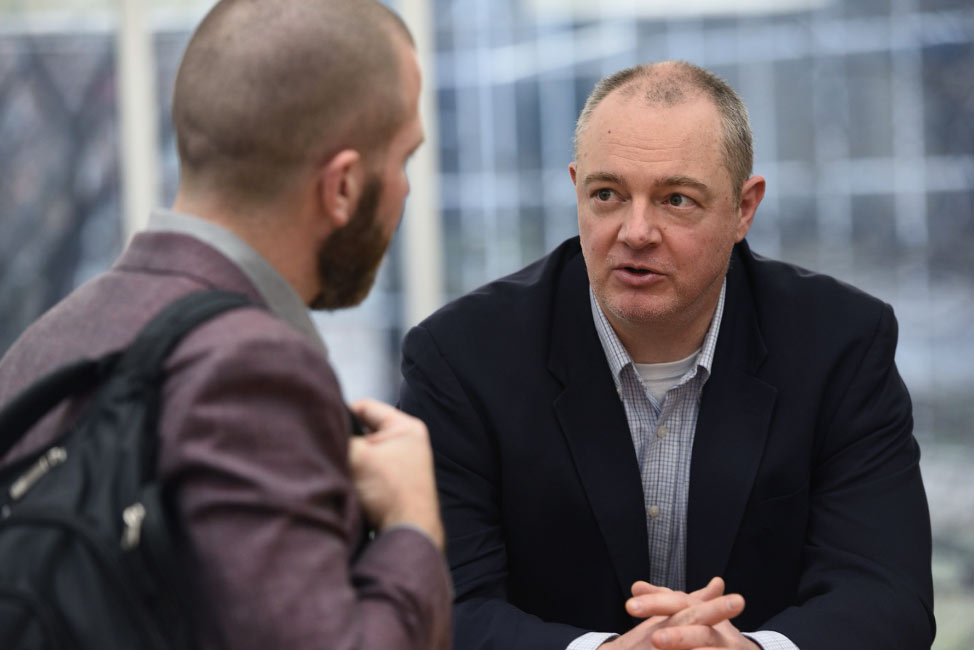 Akron Law Professor Stefan Padfield chats with a law student. Padfield was an Army staff sergeant before he went to law school.
The women and men who defend the nation during war and peace gain the valuable experience and skills needed to defend the legal rights of others. While it is well known that military service attests to the patriotism of veterans, less recognized is how military training equips them for a variety of legal careers.
Veterans from all ranks and branches of the military are strong candidates for a range of in-demand legal jobs. Keep reading for a look at these opportunities and how being in the military prepares you for law school and a rewarding legal career.
What the military teaches
Serving in the U.S. Armed Forces nurtures a competitive edge and leadership abilities while instilling lifelong lessons about discipline, decision-making, drive, stress management, and teamwork. These traits are shared by legal professionals who uphold laws and handle legal issues, among many other responsibilities.
Regardless of rank, military occupational specialty, or time in service, military experience can provide the following key skills and sensibilities needed in law school:
Leadership: Leading, working with, and serving others are all inherent to military experience. From solving problems in real time (often under duress) to listening to various stakeholders, military service teaches the skills needed to motivate and direct others. Servicemembers are often accustomed to serving as both leader and follower as well and understanding both roles is key to successful leadership in and out of law school, as is the ability to approach issues from various perspectives.
Commitment: Enlisting shows you understand what it means to dedicate yourself to a life-changing goal and mission. Military service shows law schools that you can accomplish long-term goals. Use that to your advantage. This commitment sets you apart from traditional law school applicants and prepares you for dedicating yourself to the rigorous study and practice of the law.
Diversity: The ability to work cooperatively and constructively in diverse groups or teams is a distinguishing attribute of military services. Your ability to live and work with people from different cultures and backgrounds makes you an attractive candidate. Law schools want to build diverse cohorts that will engage and challenge each other. Your military experience enhances the cohort.
Real-world practicality: Most law school applicants are younger than 25 and recent college undergraduates. As such, their "real world" experience is limited. Military experience, even without combat duty, is full of high stakes and potentially dire consequences. You've proven the ability to successfully navigate those situations and manage a slew of competing demands. You've also learned professionalism and maturity, meeting dress, decorum, and conduct codes from your earliest days in the military.
Flexibility and focus: While structure is key in the military, so is the flexibility needed to adapt to a variety of circumstances. Whether shipping off to boot camp or transferring to new commands, veterans offer versatility as they can work with established procedures and changing environments, like rolling with the punches of ever-evolving laws and legal landscapes.
Teamwork and collaboration: Vets tend to possess stronger teamwork skills and loyalty to their workplace compared to their civilian counterparts. Effective teamwork requires building and maintaining relationships and communicating clearly — extraordinarily transferrable skills in the post-law school workforce.
Organization: The military has many systems and structures in place, helping service members perform at their peak. Understanding how the "chain of command" functions at law firms, business, and government organizations can be beneficial as well.
---
RELATED
---
Prepared for a legal career
With the foundational skills above, veterans are poised to stand out in their law school applications, navigate the challenges of law school, and excel as legal professionals.
Following the successful completion of an undergraduate degree and the Law School Admission Test (LSAT) or GRE, veterans are limited only by their interests in law school. A law degree is surprisingly flexible, with lawyers serving in many different roles in many different sectors.
With a J.D. on your résumé, you might work as an advisor, advocate, negotiator, or evaluator. You might focus your law school studies and legal practice on any number of specialties, like tax, intellectual property, public interest, labor, environmental, first amendment, or product liability law. And after law school, you might find yourself in private practice, in government, or even back in the military as a Judge Advocate General (JAG) Corps officer.
Interested in a legal career but not law school? The University of Akron (UA) Center for Legal Studies offers a variety of legal courses that can qualify you for paralegal or legal assistant jobs that do not require a law degree.
Resources for veterans
As you contemplate taking the next step, there are resources available to help you with the transition from military service to the world of higher education.
Some universities will have an office of military and veterans services. UA's Military Services Center helps veterans apply for the correct GI Bill benefits and get approval even before you are admitted to the law school.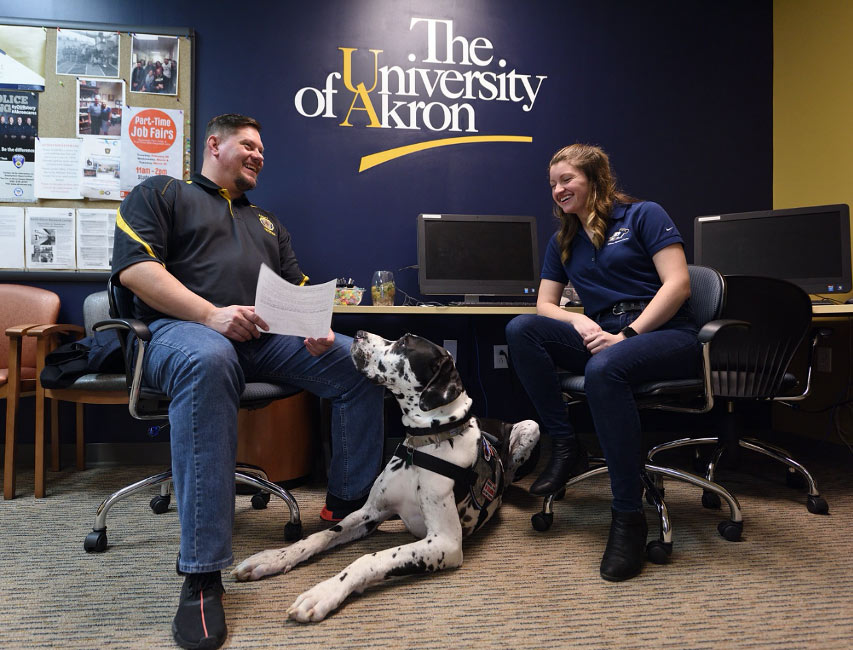 First-year Akron Law student McKenzie Gerzanics (right) talks with Military Services Center counselor Timothy Jones. Gerzanics is a Navy veteran and active Army National Guard officer candidate who works part-time at the Center. That's service dog and mascot Vader in the middle
Another option is Service to School, a national 501(c)(3) non-profit that provides free college and grad school application counseling to military veterans and service members and assists with each step of the application process.
"The legal profession will benefit many times over from the combination of [veterans'] life experiences with world-class legal training," says Anna Ivey, co-founder of Service to School and former dean of admissions at the University of Chicago Law School.
Your value
No matter which area of the legal profession you're interested in, don't underestimate your skills, abilities, and potential your military experience has ingrained in you. Plan your law school and legal career with the confidence that sustained your commitment to protect our country while in the military. Onward!
You can learn more about attending Akron Law as a veteran by visiting the Admissions page on the Akron Law website or by contacting the school at 800-425-7668 or lawadmissions@uakron.edu.
---
Story by Robin Farmer
Farmer is a professional writer based in Richmond, Virginia. This story is reprinted by permission. The main article originally appeared in the News & Events section of the New England Law website.
---
Media contact: Lisa Craig, 330-972-7429 or lmc91@uakron.edu
---